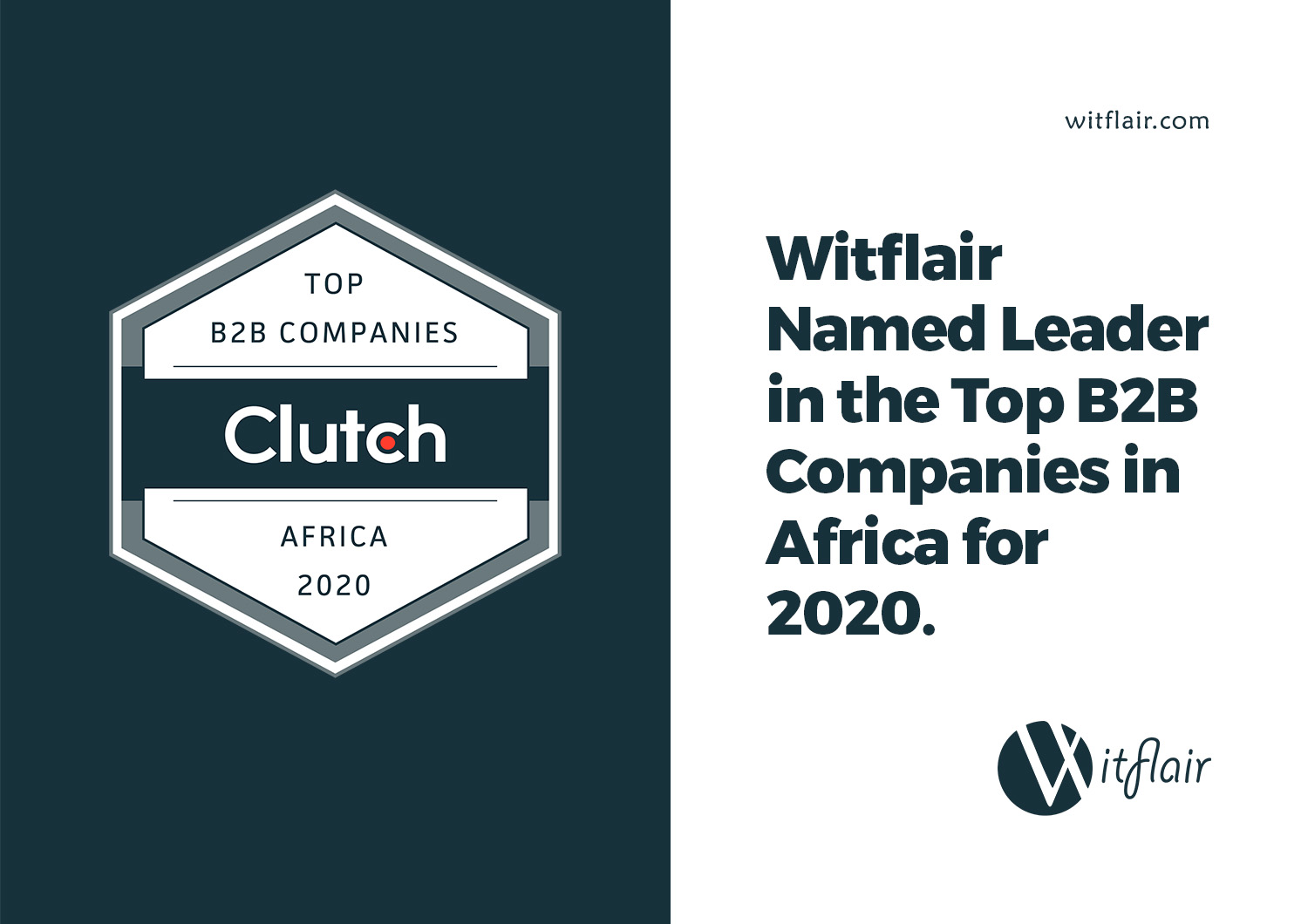 Witflair Named Leader in the Top B2B Companies in Africa for 2020
Witflair Named Leader in the Top B2B Companies in Africa for 2020
On August 31st, 2020, Clutch released a list of the top-performing B2B companies in Africa. Their selection process matches against market presence and verified reviews. Thanks to our loyal clients and fans, we made it to the list.
No doubt that our hearts are filled with a lot of joy to be featured in this list. We are barely out of our startup phase, but good things seem to be following us – being our second award this year alone.
Two years in and we have already left a big footprint of digital successes for a wide range of clients from various industries. Not only do we provide enviable digital branding and design work, but also help businesses set up their online presence for more visibility and sales.
As our field is constantly changing, you can count on us to engage ourselves in continuous training to make sure we deliver the best services to you.
Being recognized among other top advertising and marketing agencies in Africa by Clutch is a great achievement.
Clutch is a well-established ratings and review platform based in Washington, DC. With the global B2B market being complicated, Clutch helps service providers connect with buyers that can cater to their needs.
The firm only publishes unbiased client reviews and data-driven content to genuinely allow you to make confident decisions.
"We are thrilled to have been named a leader in the top B2B companies in Africa by Clutch!" —Demas Mugambi, Founder of Witflair.
We're proud to have glowing reviews on Clutch — which allowed us to receive this Clutch Leader Award! Get a glimpse on what our clients have to say:
"If Witflair commits to a deadline, they'll deliver on that date. For me, that goes a long, long way." —Edward Njoroge, Director of Beavercon.
"They helped shape my idea into something I could embrace." —James Otundo, Executive Director of Jamesvybe.
Many thanks to our clients and well-wishers for supporting us on this journey. We definitely could not have achieved this feat without you!
Let's talk about solutions. Maybe it's time to nurture your business with us!
Shall we strategize now? Go for it.